Steps to Bringing Pure Nectar To Your City
Pure Nectar JUICE BAR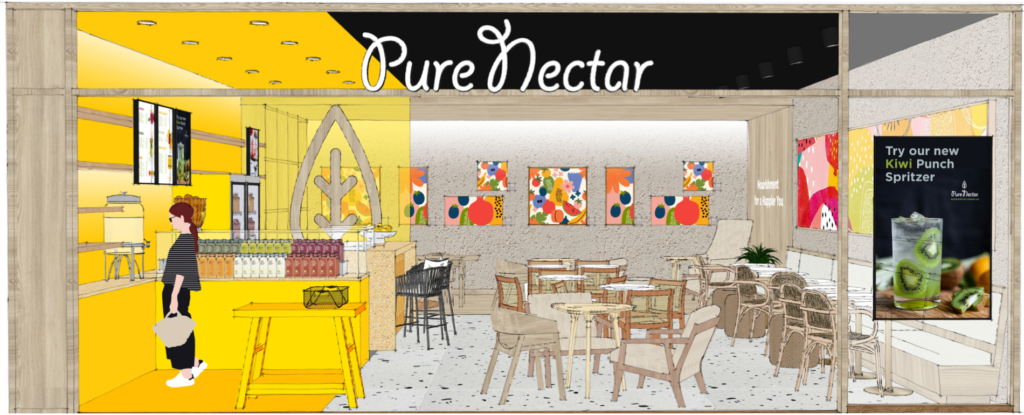 PURE NECTAR JUICE BAR
Consumers are looking for healthy and tasty beverage and food options, unfortunately, this is not so easy in the marketplace.
The Pure Nectar Brand Promise is "Nourishment for a Happier You!" and the Pure Nectar Juice Bar is the ultimate place to deliver this Brand promise.
The Pure Nectar Juice Bar provides an innovative menu of healthy and delicious items with a high level of hospitality for Guests.
This 50-80 m2 prominent high traffic location retail Juice Bar provides the ultimate in Guest hospitality satiating the taste buds, the eyes, the years and all the senses.
From the creative design with local furniture and artwork, innovative menu and daily entertainment activities, the Pure Nectar Juice Bar becomes the "place to go" in your local community.
The Juice Bar experience can be summed up in five distinct categories:
Hospitality
Guest comfort and Guest experience are the foundation of the Pure Nectar Juice Bar. Guests are treated as friends who have come home after a long time. The high level of hospitality afforded throughout the visit creates an indelible impression that will keep the Guests coming back as well as telling friends and family to visit the Pure Nectar Juice Bar.
Convenience
 The Purchase 2 Go counter is a fast and convenient way tick up Pure Nectar Bottles Juices. The full selection of juices available for the season is always available at the Juice Bar.
Ambience
 Walk into the Juice Bar and you are transported to another place invoking fond memories of local heritage. The furniture made by local artisans, the artwork of local artists adorning the walls, the imagery of the Juice Bar captures your soul and brings about a sense of comfort.
Unique menu
In addition to the full complement of Pure Nectar Juices available at the Juice Bar, Twisters, Mojitos, Shots, Fruits & Sauces, Salads, and Tapas add a whole new dimension to the sensory experience delighting the eyes and savoring the tastes to the fullest. An extensive menu of 40+ items all enjoyable at the Pure Nectar Juice Bar.
Daily activities
Activities enhance the Guest experience. Be it the local band providing entertainment in the evening or the family game night or a special date night or learning activities all intended to keep Pure Nectar Guests coming back, while supporting the local community.
We are confident, there is nothing like this in your community.