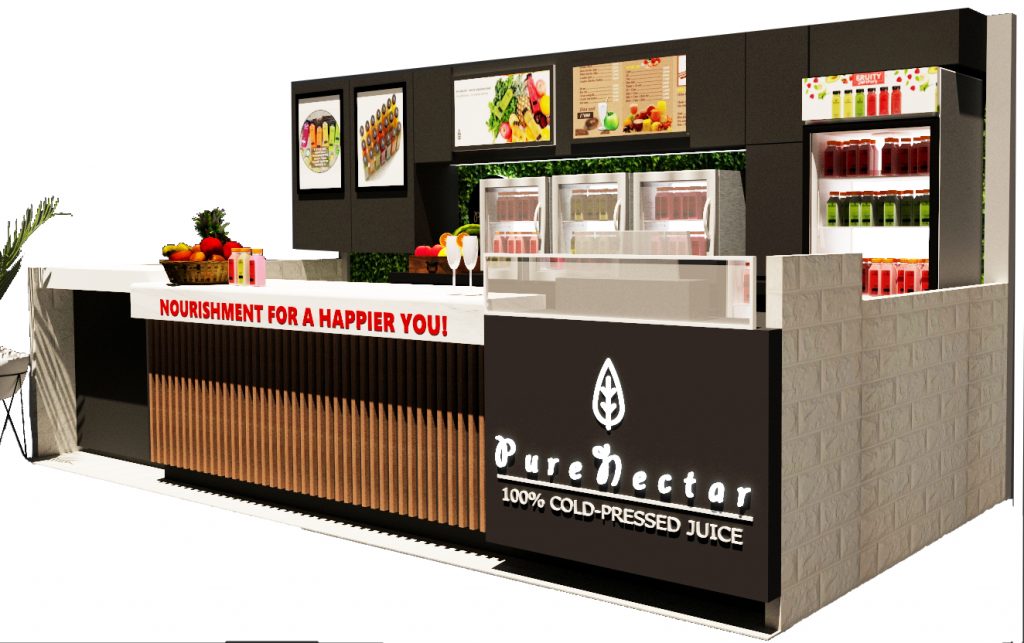 The Pure Nectar Juice Station (Kiosk) Business is available in certain markets where a Pure Nectar Juicery is already operating.
The Juice Station business is currently available in the following cities:
SINGAPORE
Investment required S$36,000 +S$14,000 working capital.
Monthly Technology Fee of S$675.
No Royalty on sales.
Eastern Malaysia (Miri & Kota Kinabalu)
Investment required MYR 123,000 + MYR 42,000
Monthly Technology Fee of MYR 2,100
No Royalty on Sales
The Pure Nectar Juice Station sells the complete line of delicious and healthy Pure Nectar products.  The kiosk size is approximately 8 sq. meters or 80 sq. ft). No products are made at the kiosk.
A nominal franchise fee, 3-day training program, all equipment, Point of Sales system and a powerful technology platform to operate the business is all included in the investment estimate.
This is a uncomplicated business opportunity:
Promotes a healthy lifestyle
Requires low investment
Hires few employees
Provides fast Return on Investment
This is a great business for 1st time entrepreneurs, professionals looking for a part-time business and those seeking a second career .
Have what it takes to join the Pure Nectar Juice Station franchise?
Aside from having sufficient funds to invest in the business, Pure Nectar looks for the following success factors:
Drive to succeed
Ability to follow our system
Great attitude
Good communication skills
Being customer focused
Knowing how to manage people
If you believe you have what it takes, please contact Pure Nectar Global Head, Mr. Harish Babla at Harish.Babla@PureNectarJuice.com. Please state the city of your interest and provide your brief background for evaluation. We will send further information to begin discussions.